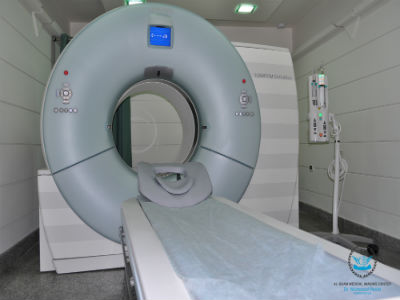 Dual Source CT., SOMATOM Definition from Siemens
The idea behind Dual Source CT is as simple as ingenious: it is merely using two X-ray sources and two detectors at the same time.
The result? You get double temporal resolution, double speed, and twice the power, while lowering dose even further. It provides images of exceptional quality and is an amazing tool to explore new clinical opportunities.
The benefits Dual Source CT holds for you and your patients are astounding.
SOMATOM Definition allows you to scan any heart at any heart rate without the need of beta-blockers – at the lowest radiation dose ever achieved in CT.
Moreover, it provides one-stop diagnoses regardless of size*, condition, and heart rate of the patient, saving precious time and money in acute care. And imagine all the additional clinical opportunities spiral dual energy scanning offers in CT by characterizing materials in a single scan.
Reaching excellence in CT is not only about having the most innovative scanner: it is also about pushing clinical boundaries to a higher level, providing advantages nobody wants to miss.
We make a difference by offering a complete and comprehensive solution dedicated to all clinical needs, by turning most complex examinations into easy CT routine. Invest in the future, be part of the new era.
The difference between being fast and being faster than every beating heart? No beta-blockers, no exceptions.
Over the past few years, a clear vision was born to improve patient care by making non-invasive, cardiac diagnosis routinely accessible for all patients. Using two X-ray sources simultaneously, we at Siemens turned this vision into reality.
Until today, cardiac imaging was only feasible if the patient's heart rate was adequately low and stable. Now, with Dual Source CT, cardiac imaging is twice as fast as with the fastest single source CT. You are able to perform reliable cardiac imaging not only independent of the heart rate, but also without the compromises of beta-blockers or multisegment reconstruction.
Together with the industry's highest spatial resolution, it visualizes the finest anatomical details in crisp-clear images without motion artifacts.
Even the smallest coronary vessels and plaques appear sharper and stents are highly delineated. This gives you the confidence to perform accurate stenosis measurements or stent planning with outstanding precision.
Freezing the motion of every patient's heart is what SOMATOM Definition has been designed for. Making a difference in cardiac CT, it enables you to confidently perform cardiac examinations without compromises – turning cardiac CT into daily clinical routine.
How It Works
Optimal cardiac imaging can be best achieved in the diastolic phase, which becomes shorter as the heart rate increases. To take a cardiac image, CT scanners have to obtain data projections of 180 degrees. The crucial factor, called temporal resolution, is how long it takes to obtain these data.
To increase temporal resolution, the conventional approach is a faster rotation speed that, at three rotations per second, has reached its current physical limit.
A second approach is multisegment software reconstruction, where smaller data sets are acquired in consecutive heart cycles. A potential increase of temporal resolution, however, strongly depends on the heart rate. In addition, as data sets of different heartbeats have to be added and coronary arteries move
between each cardiac cycle, the resulting image loses quality.
Dual Source CT, on the other hand, overcomes these limitations, as the two source/detector combinations imultaneously collect a data set of 90 degrees each during one heartbeat.
Based on 0.33 s rotation time, this concept provides a heart-rate-independent temporal resolution of 83 ms.
| | |
| --- | --- |
| | |
| 60 bpm single source CT | 100 bpm single source CT |
At a low and stable heart rate, the time a single source CT scanner needs for imaging is sufficient. Despite a possible higher temporal resolution of multisegment reconstruction, the result would not improve. The substantially higher temporal resolution of Dual Source CT, on the other hand, eliminates residual motion.
| | |
| --- | --- |
| | |
| | 100 bpm Dual Source CT |
At higher or varying heart rates, the diastolic phase is too short for a single source CT scanner, resulting in poor image quality. Even multisegment reconstruction cannot meet the challenge adequately, as the acquired data sets needed for one image originate from different heart cycles. Dual Source CT, on the other hand, delivers sharp and detailed cardiac images at all heart rates.
| | |
| --- | --- |
| | |
| | 100 bpm Dual Source CT |
Cardiac CT image quality comparison of patient with varying heart rate between 86 bpm and 122 bpm.
Limited temporal resolution of single
source CT results in poor image quality.
At a higher and varying heart rate, the
insufficent image quality does not permit
a diagnosis of the right coronary artery.
Multisegment reconstruction cannot
improve the image quality adequately.
The visualization of the right coronary
artery is limited because the acquired data
is collected from subsegment heartbeats.
Dual Source CT's heart rate independent
temporal resolution of 83 ms delivers
sharp and motion free images even at
high and unstable heart rates. Even the
right coronary artery can be displayed
with excellent image quality.
| | | |
| --- | --- | --- |
| Single source CT | Multisegment reconstruction | Dual Source CT |
| | | |
Excellent image quality of arrhythmic patient with a rapidly changing heart rate between 48 bpm and 93 bpm.
Despite high heart rate of 130 bpm, visualization of even smallest coronary arteries without any motion artifacts.
....................................................................